Home Energy Scoring
Posted: 3 years, 2 months ago
What is a home energy score anyhow?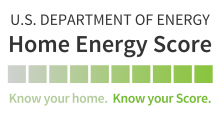 I have partnered with the US Department of Energy to offer home energy scoring to residential users in the greater Grand Traverse area. A home energy score is a low cost means to see how your home's energy features compare to similarly equipped homes in the area. This assessment takes about 45 minutes on site and will generate estimated energy usage statistics as well as help prioritize changes you can make to use less energy. This will be of benefit for a home buyer to know approximate utility costs, and will give them an idea of any updates to make a home more energy friendly.
Energy scoring in this manner is less intensive than an energy audit, as a result less costly. Often costing a fraction of a full energy audit.
Did you know- Many realtor boards and state associations are requiring home energy scoring be included in listing information. While Michigan does not currently require this, it may be considered the wave of the future.
Share on Facebook
---